Just having a website is no longer enough.  There are over 10 Billion webpages on the internet.  How do you stand out and become the one out of 10 billion?  You need to be found by your potential clients.  Sanns can help.
Search engine optimization, also called SEO, is critical to being found.  Sanns can help to raise your profile on the major search engines for your client's search terms (keywords).  Understanding how Google, Bing, Yahoo! and the other search engines catalog and rank websites — a complicated and ever tweaked concept — for keywords is essential.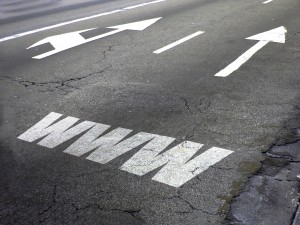 We install analytics on all of our client's websites.  Analytics allows you to see where your web traffic is arriving from, who referred them, what keywords and phrases they used, the day/date/time of arrival, how long they spent viewing your webpages, where they entered and left, the path they took through your website, files downloaded and more.  Understanding your analytics can help further tweak your website to secure your desired traffic.
Social media and social marketing has become ubiquitous.  There are 800 million Facebook users, more than half of whom log on daily.  There are over 100 million LinkedIn accounts.  Twitter has about 175 million account holders.  These are huge markets for potential customers.  Companies should have strategies to take advantage of these markets.
You can also buy your traffic by using online ads such as Google AdWords and ads on LinkedIn and Facebook.  There are numerous strategies for advertising online.
Finally, if your business serves more of a local clientele, you must be on Google Places, Yahoo! Local and Bing Local.  These pages specialize in returning local content to people searching on the major search engines.